Goteki 45 F7200



Team

League

F7200

Thrust

3/5

Speed

2/5

Shield

4/5

Handling

3/5
The Goteki 45 F7200 is a ship featured in Wipeout 3.
As Goteki 45's focus at the F7200 League is more on aggression rather than actual racing, this craft is more geared towards combat. It's slightly faster than FEISAR, but sacrifices thrust and handling to maintain it. However, it still has high shielding, making it an effective combat craft.
It is the most durable ship in the game.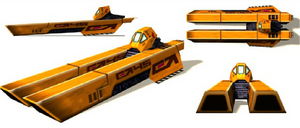 Ad blocker interference detected!
Wikia is a free-to-use site that makes money from advertising. We have a modified experience for viewers using ad blockers

Wikia is not accessible if you've made further modifications. Remove the custom ad blocker rule(s) and the page will load as expected.