Auricom F7200



Team

League

F7200

Thrust

3/5

Speed

3/5

Shield

3/5

Handling

3/5
The Auricom F7200 is a ship featured in Wipeout 3.
The Auricom craft has average written all over it. It is a good step up from the two slower craft, but its shields are slightly weaker so you will need to be a little more conservative with regards to combat. It can still hold its own though, and it is a great bridge into the heavier craft.
It is the only ship in the game with equal stats all round.
This craft consists of 129 triangles, which is the highest count of triangles out of all the racers.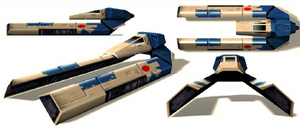 Ad blocker interference detected!
Wikia is a free-to-use site that makes money from advertising. We have a modified experience for viewers using ad blockers

Wikia is not accessible if you've made further modifications. Remove the custom ad blocker rule(s) and the page will load as expected.