Assegai F7200



Team

League

F7200

Thrust

3/5

Speed

3/5

Shield

1/5
2/5 (Special Edition)

Handling

5/5

How to Unlock

Get at least Bronze with all four standard craft, Qirex, and AG Systems in the same speed class
The Assegai F7200 is a ship featured in Wipeout 3.
While its speed and thrust are average, nothing can match the Assegai for agility, able to tackle the most technical circuits without even touching the airbrakes. Unfortunately it has the weakest shields of all the craft, so keep well away from combat and use the hyperthrust very sparingly. Its agility can also be a problem in that it is very easy to overturn corners, so be very light with your controls.
In Special Edition, the Shield stats for Assegai was increased to 2.
This craft is also disadvantaged if the player chooses to race in the cockpit view as there is a horizontal bar that reduces visibility across the windscreen.
It is the only Assegai ship in the whole series where it is an unlockable ship.
This ship, along with the Auricom T-808 are the only ships in the whole series that have an asymmetrical design.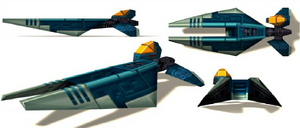 Ad blocker interference detected!
Wikia is a free-to-use site that makes money from advertising. We have a modified experience for viewers using ad blockers

Wikia is not accessible if you've made further modifications. Remove the custom ad blocker rule(s) and the page will load as expected.