AG Systems F7200



Team

League

F7200

Thrust

3/5

Speed

4/5

Shield

2/5

Handling

3/5

How to Unlock

Get at least Bronze with all four standard craft and Qirex in the same speed class
The AG Systems F7200 is a ship featured in Wipeout 3.
The AG Systems craft is a much faster incarnation than its predecessors, able to match Qirex for top speed and better it for handling. However, like its previous incarnation, its shields are thin and a lot of wall scraping will cripple it. However, its thrust is not quite on its usual standard compared to its predecessors and successors.
It is the only AG Systems ship in the whole series where it is an unlockable ship.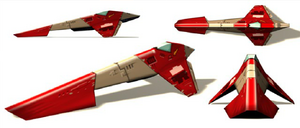 Ad blocker interference detected!
Wikia is a free-to-use site that makes money from advertising. We have a modified experience for viewers using ad blockers

Wikia is not accessible if you've made further modifications. Remove the custom ad blocker rule(s) and the page will load as expected.